The "Hidden Album" on the iPhone has always had a problem - it's never really hidden away. When this feature was introduced in iOS 10 in the Photos app, any photos or videos you put in this folder will still be visible if someone has access to your device. Up to now, this problem has been completely overcome.
We expected Apple to add a lock feature to the "Hidden Album", which can only be unlocked with Face ID , Touch ID , a password or a code, the same way we use it to open confidential documents. in Notes, Numbers, Pages, and Keynote apps. However, iOS 14 has a better solution to hide this folder.
To prevent others from seeing your private photos and videos, the first thing you need to do is update your iPhone software to iOS 14. By default, "Hidden Album" will no longer appear in the Photos app, whether you already have or are prepared to create that directory. To find secret photos and videos, go to Settings> Photos , turn on the Hidden Album option , then go to Other Albums in the Photos app.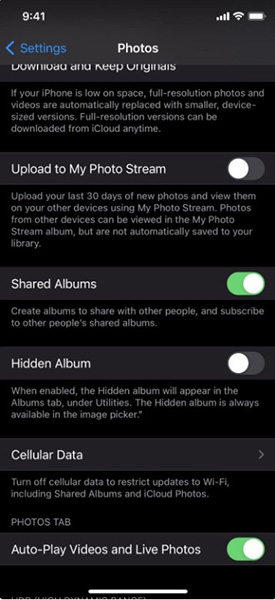 Whether the Hidden Album feature is enabled or disabled, you can continue to add photos and videos to that folder. Click the Share button when viewing photos or videos in the Photos or Camera app, and choose Hide from the task list.
However, if you read carefully the description of Apple, you will see that this is not the perfect way to hide photos and videos you don't want anyone to see. When accessing photos from applications such as Messages, Mail, Facebook, Instagram, etc., the folder "Hidden Album" is still clearly visible in the "Other Albums" section even if it is hidden. So curious friends or family members can still access the iPhone and know all the secrets, it just takes a little longer than before.