If you want to buy an iPhone that is used or otherwise reputable, make sure you do a thorough inspection. Besides configuration and functionality, you need to pay special attention to iCloud .
Why so? If unfortunately you will encounter iPhone with iCloud hidden and the account will decide whether you have the right to use the device again after restoring or restoring device settings. To better understand the problem, invite you to find out what iCloud is hidden? How dangerous is it? How to check hidden iCloud on iOS device?
What is iCloud? What is hidden iCloud?
iCloud on iOS
The concept of iCloud began to appear with the operating system iOS 7. Apple uses this account to verify the identity and ownership of someone with their iPhone phone. Since then, the Find My Phone feature has added an Activation Lock mode with iCloud lock function to lock the device in case of loss or theft.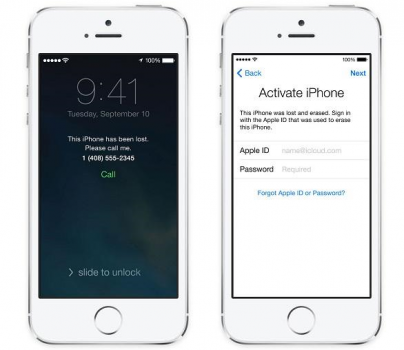 Activation Lock is one of Apple's security features.
When your device has iCloud enabled , you have the right to remotely wipe your data and lock your phone when it's stolen. This is very simple, you just need to go to iCloud.com to perform and only when the phone enters the correct iCloud account can it be unlocked.
What is hidden iCloud?
If using the hidden iCloud normally looks like a normal iCloud, you can still log into your new Apple ID account and update the software. However, the hidden iCloud device still saves the activation lock status (backup and reset not allowed) on Apple's servers.
It is extremely dangerous when you use a hidden iCloud phone and perform "Restore" or "Reset all settings" , at which point the iPhone will query for information with the Apple server and the phone will be in an activation pending state.
Now you only have to enter the correct account and old iCloud password to use the phone, a high price to pay for the unlucky user.
How to check to avoid buying an iPhone with hidden iCloud
If you need to buy a new iPhone, you should choose a reputable address, but if you like a certain iPhone, you still have a way to check iCloud hidden.
Method 1. Restore or reset an iOS device
This is the most convenient and fastest way, even if the device is not connected to the network, you can still check the hidden iCloud on the iPhone. To reset your iOS device do the following:
Step 1. You open center Settings (Settings) => click on the General settings (General) => and select Reset (Reset) in the next window.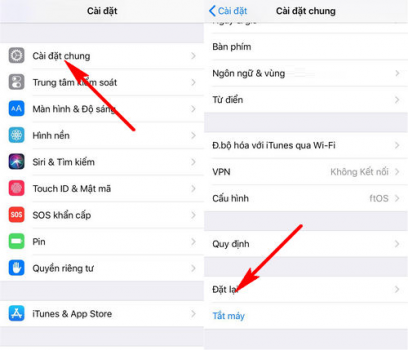 Step 2. The next window will appear, click Delete all content and settings (Delete All Contente & Settings) => then confirm again by clicking Delete iPhone (Delete iPhone).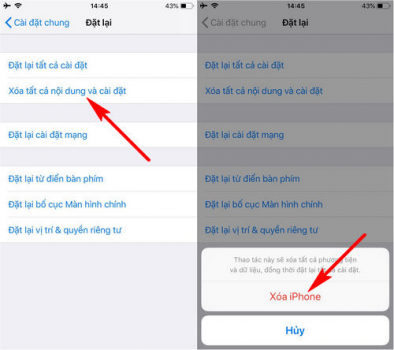 Step 3. Once the iPhone reset is complete, you will be taken to the initial setup screen. Now you will receive the request to properly activate iCloud if this is a hidden iCloud phone, otherwise you can activate with a new iCloud account.
Method 2. Check iCloud hidden on the Apple service website
This is also very simple, but requires the iOS device to have a network connection and have the IMEI or Serial number of the device. To quickly see the IMEI and Serial number of your device go to Settings / General / About or Settings / General Setting / About. You do the following:
You open any browser up then access this address . Then enter the Serial number or IMEI in the box, continue to enter the captcha code => finally click Continue .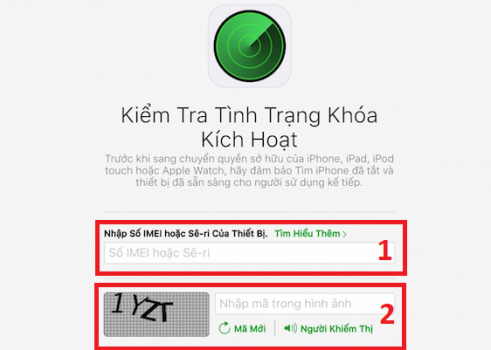 Enter the Serial number or IMEI to check iCloud.
If you get an Activation Lock: Off message , congratulations. This iPhone or iPad does not have iCloud hidden and you can sign in your iCloud account to use.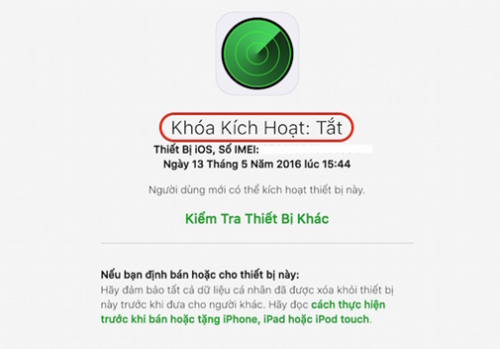 The device does not have hidden iCloud, you can activate with the new iCloud.
In case you get the Activation Lock: On message (Find My iPhone is turned on), your device is affected by iCloud, you need to contact the previous owner of the device to turn it off.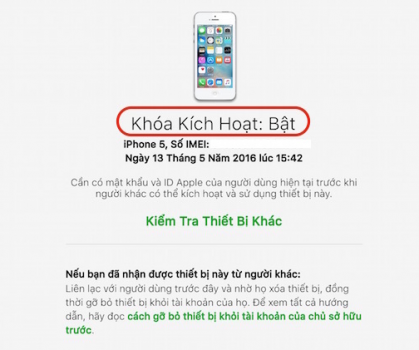 IPhone is stuck with iCloud hidden.
Method 3. Check iCloud hidden via imei24.com
In case you cannot use the Apple support site to check iCloud, please use this method, requiring you to have the IMEI information of the device.
Step 1. You check your phone's IMEI by opening the Calling app , then enter the code * # 06 # and press Call .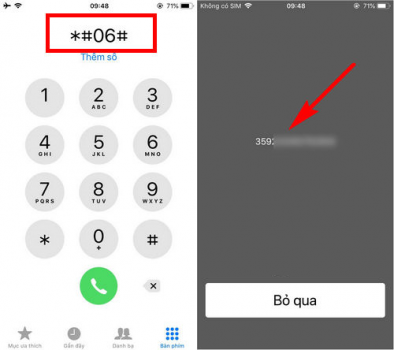 Step 2. You access this address . Next, enter your phone 's IMEI in the box and click Check .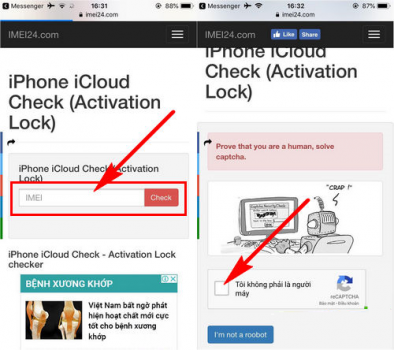 If the request for a non-robot confirmation appears, check I am not a robot => then click i'm not a robot .
Step 3. Right after that, the tool will display information about the device to be checked.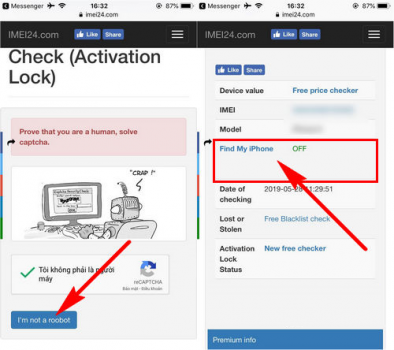 If you see Find my iPhone OFF, your phone doesn't have hidden iCloud.
On the contrary, if Find My iPhone ON appears , our condolences to you because this device is hidden by iCloud.
Method 4. Check iCloud on iPhone using 3uTools tool
With this way you can get detailed information about the device such as IMEI code, origin, iCloud ... However you need to install iTunes and 3uTools tools.
Step 1. Install iTunes software and tools 3uTools on your computer.
Step 2. Now connect the device to be tested to the computer via the connection cable, select Trust on iPhone screen when using 3uTools for the first time.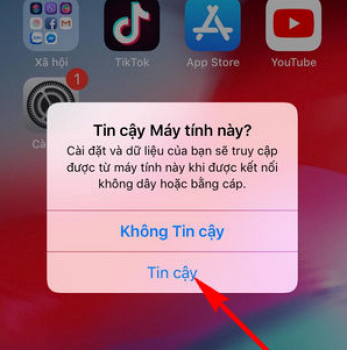 Step 3. Now you can see all details of the device on 3uTools interface. You pay attention to the iCloud line, if the status is ON, it means that this phone has hidden iCloud.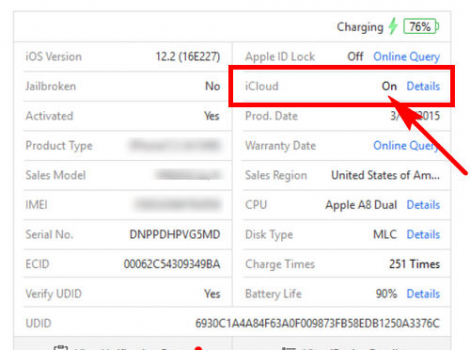 On the contrary, if the status is OFF then congratulations because this iPhone is not hidden from iCloud.
Epilogue
So you already know what iCloud is and how dangerous the hidden iCloud phone is. In addition, I have also introduced to you how to check iCloud and iCloud hidden on iPhone in many different ways. If your Apple service page cannot be used, please move to check by another third such as IMEI24, ...
Here you are completely confident when you want to check and buy an old iPhone you like anywhere without worrying about iCloud account anymore. If you have any comments or questions related to this article, do not forget to share your comment in the section below.